Our research is pioneering a new public health approach to holistically address youth violence, its deep-rooted causes and its economic and social impact to safeguard children across England and Wales.
Youth violence is a significant issue in England and Wales. Each week it robs parents of their children and leaves deep psychological scars on our young people and communities. According to the Office for National Statistics, knife-related offences have increased rapidly in recent years, from 23,945 in 2014 to 46,348 in 2020. Since 2017, I've been working as the lead criminologist for the Youth Violence Commission. One of the Commission's key findings is that youth violence has cost the English and Welsh economies more than £11bn over the past decade in health care, policing, criminal justice and victims' services.
We know that this violence is rooted in social deprivation, exclusion and abuse. Yet, we continue to shine the spotlight on the violence committed by young people while downplaying or overlooking the severe violence and mistreatment these very same young people face daily in their own homes and on the streets due to policy and institutional failures.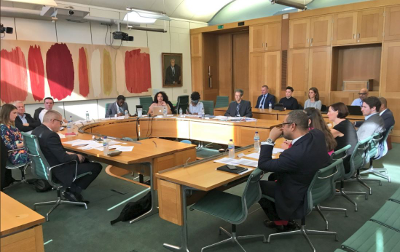 No quick-fix solutions
Most public discourse still focuses on treating the symptoms – stricter sentences for offenders and increased policing – rather than the causes. Meanwhile, our politicians have tended to fixate on quick-win short-sighted policies, which place enormous pressure on the services charged with addressing youth violence and, as a result, almost always fail. It doesn't have to be this way.
We only have to look to our closest neighbours, Scotland, for an example of what we can achieve if we address violence among young people not as something to fix overnight with narrow interventions but a long-term challenge that requires a systematic solution. Formerly among the most violent places in the developed world, since 2005, Scotland, and the City of Glasgow, in particular, have more than halved their murder and violent crime rates by taking a public health approach that effectively treats violence as a curable disease.
Treating violence as a public health issue
My role as lead criminologist for the Youth Violence Commission has involved working with a cross-party group of MPs to identify and promote evidence-based policies to reduce rising rates of knife crime and serious violence between young people. During this time, I've collaborated with partners, including economists from The University of Warwick's Policy Lab in London, to examine the potential benefits and feasibility of taking a similar public health approach to violence reduction in England and Wales. The Commission's work builds upon three main strands of research:
Interviewing and observing the Scottish Violence Reduction Unit provided evidence that one of the crucial factors in reducing violence in Glasgow was a move away from narrow suppression and enforcement-based strategies to a public health approach. This approach involves identifying and adopting evidence-based policies and practices across various social policy areas, including professionally coordinated health, education and youth services.
Launching the first national 'Safer Lives' survey on youth violence, which gathered evidence on the nature and scope of violence affecting a diverse sample of more than 2,000 young people in England and Scotland. These findings helped shape the Commission's recommendations around the importance of early intervention and increasing early years support to children and families.
Conducting six evidence sessions in 2017-2018 on the Parliamentary Estate with a range of experts, including the Head of the National Crime Agency. These sessions exposed the limitations of narrow policing and suppression-based approaches to reducing youth violence and provided support for creating new regional Violence Reduction Units to oversee and coordinate holistic public health approaches to the issue.
Practical changes to policy and practice
The Commission's and my independent research have led to public, private, and third sector policy changes across England and Wales.
Our work on the impact of social media on youth violence persuaded platforms to review their monitoring and safeguarding policies. Senior staff at Google and YouTube invited me to advise them on these issues, with Google ultimately investing £600,000 in the Social Switch Project. The three-strand project included social media safeguarding workshops for more than 500 frontline professionals working with young people, digital sector work experience for over 40 disadvantaged young people and direct funding for grassroots youth organisations.
In 2019, informed by the Youth Violence Commission's recommendations, the UK Government announced a £35 million programme to create a network of 18 regional Violence Reduction Units across England and Wales. I have also been working closely with a recently established £200 million Youth Endowment Fund to build an evidence-base for effective early interventions and invest in programmes to reduce violence in young people's lives.
This progress is promising. However, we are still a long way from fundamentally tackling youth violence. In the Youth Violence Commission's final report, published in July 2020, we called for more long-term investment in Violence Reduction Units to keep young people safe.
A long-term strategy
The Commission also produced a raft of other evidence-informed policy recommendations, such as:
Immediate enhanced funding to better enable schools to support pupils by fostering inclusive educational environments that avoid the harmful practices of pupil off-rolling and exclusion.
Using the future reinvestment in police officer numbers to rebuild the police's capacity to engage in neighbourhood and community policing, focused on establishing trust and confidence in the police.
Providing Local Authorities with Central Government statutory funding and a clear statutory duty for funding youth services, the levels of which should be determined by the number of young people living in each Local Authority area.
As we survey the coronavirus pandemic's lasting social and economic devastation, it is crucial not to overlook its impact on young people. Now more than ever, we must radically increase our investment in long-term preventative strategies that will not only reduce serious youth violence but offer young people hope, security and opportunity for the future.
Written by: Dr Keir Irwin-Rogers, Lecturer in Criminology, Faculity of Arts and Social Sciences