The UK chancellor's recent Budget reminded us that systemic problems continue to plague the government's delayed roll-out of universal credit – a single monthly welfare payment that will replace six separate benefits. Philip Hammond also spoke of the UK government's commitment to innovation, with the chancellor calling for a new tech startup to be founded in Britain every half hour.
Put the two together and what do you get? Govcoin.
You probably haven't heard of Govcoin because the government has been very discrete about trials of the technology, which began last year.
It's the brainchild of a London-based tech startup of the same name, led by mathematician, former financier and entrepreneur Robert Kay. Govcoin, intent on "disrupting" welfare state provision, has been working with the Department for Work and Pensions (DWP) since early 2016 to develop a blockchain solution for welfare payments. So how does it work?
Virtual jam jars
Govcoin aims to virtually mimic the jam-jar method which, according to the Money Advice Service, is a good way to manage your savings. The aim of Govcoin is to use this traditional method in the virtual environment of a mobile phone app to give claimants instant access to benefits and avoid delays in payment processing.
"Claimants can – voluntarily – download an app, which enables them to create virtual jam jars and apportion money to them. Whether that's 'rent', 'gas and electric' – it's entirely up to them," said Kay in an interview with City AM last autumn.
"People who are on the fringes of financial inclusion," he added, "or who are financially excluded, need a special service which can give them instant access to their benefits – three days going through the banking system may mean using a payday lender, or being thrown out of your house."
Given the recent and ongoing problems faced by government over slipping deadlines for the deployment of universal credit, as well as concerns that delays in payments could lead to an increase of cases of homelessness, Govcoin must sound like music to the ears of ministers. But isn't it simply a proposal for the wholesale privatisation of welfare distribution – a proposal legitimised by the government's wider commitment to unfettered tech innovation?
Future markets in welfare provision
Kay claims Govcoin will financially empower benefit claimants. But its distribution model involves benefits being paid – not in pounds and pence – but in the form of a cryptocurrency similar to Bitcoin. Govcoin promises to allow claimants to pay for goods and services – such as utilities – linked to the system.
This is significant because, unlike Sterling, cryptocurrencies in the form of coins or tokens transacted on a blockchain can harbour additional and potentially valuable data regarding the person "spending" it. This data can then be used to create new markets in goods and services, or what Adam Greenfield refers to in his book, Radical Technologies, as "ever-tighter loops of response to desire".
Using benefit claimants' data in this way is highly cynical. Far from empowering individuals, it offers up seriously vulnerable people to the forces of commercial opportunism.
This might appear unreasonably speculative on my part and there have been "categorical assurances" made by the government that it won't be used to monitor the activities of claimants. What is more, according to Kay, "the DWP has no access to the application or the data" held by Govcoin.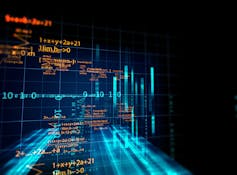 But I'm not sure government or the state ought to be the concern here, given how clear Kay has been about the commercial opportunities offered by the technology in this sector.
Govcoin aims to monetise the project through a network of merchants. However, it doesn't end there. "We also haven't looked at advertising opportunities yet, but clearly they exist," Kay said.
Just because the DWP – we're told – won't have access to the data, doesn't mean the data will evaporate. Quite the opposite in fact when the immutable recording of information and data that blockchain provides is taken into account.
The technology might in this sense be considered "disruptive" – insofar as that term has any real meaning in the context of political economy, as I have argued elsewhere. But not in any way that can or should be considered good, fair or even reasonable.
If the cost of disrupting welfare provision in order to satisfy desires for innovation involves the cynical exploitation of vulnerable people for commercial gain, then it is not a cost worth paying.
Great opportunities ahead of us?
Govcoin is yet to be implemented and it's uncertain if the DWP plans to move it beyond small-scale trials. If Hammond's Budget speech is to be believed, the tantalising opportunity of a tech "solution" to the problems of universal credit may be too tempting for the government to overlook.
Conservative peer Lord Henley, who is a government spokesman on the Govcoin experiment, said in March 2017: "There is no next trial planned at this stage." More recently, during a upper chamber debate on the "Fourth Industrial Revolution" – in which blockchain is viewed as playing a key role – Henley failed to mention Govcoin by name.
A feeble response was elicited from Henley, following an enthusiastic comment made by fellow Tory peer Lord Holmes, who – hinting at the subject – said: "There are some excellent initiatives in various departments, not least the use of blockchain in the Department for Work and Pensions to greatly empower benefits recipients."
Henley replied: "My noble friend is right to say that there are great opportunities ahead of us."

The government may be backing tech innovation, but it doesn't mean companies such as Govcoin should have a free pass into the heart of civic life. Ironically, the dream for some who backed the technology from the start was that cryptocurrencies and blockchain would mean less government interference – not more.
Robert Herian, Lecturer in Law, The Open University.
This article was originally published on The Conversation. Read the original article.