As The Open University celebrates its 50th anniversary and its mission of openness, Martin Weller, Professor of Educational Technology at the OU, will examine what the term 'open' means and consider what an 'Open University' would look like if we were to invent it now.
Attend in person Watch the webinar
Abstract
When the OU was founded 50 years ago, it established a model of 'open education' that went on to be successfully replicated in many countries.
The 'open' in 'Open University' referred to open access to education, and the model was developed to enable that, and allowed the OU to take the lead in resources such as OpenLearn and Open Textbooks.
In the ensuing 50 years, open has taken on other interpretations in education: open source software, open educational resources, open access publishing, massive open online courses, open licenses, open science and open pedagogy. In fact, the term 'open' can be added to almost any academic pursuit now and a community can be found supporting that approach.
In my talk, I will examine these different aspects of open, consider what they have in common, what separates them and what they can learn from each other. It seeks to answer the question, if you were to invent an 'Open University' now, what would it look like?
Watch the trailer video to find out what Professor Martin Weller has to say about his lecture: 
About Professor Martin Weller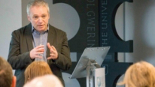 Professor Martin Weller is Director of  The Open Education Research Hub, a leading platform for research into the impact of open educational resources (OER) on teaching and learning practices. He is also Director of the GO-GN network, a global community of OER PhD researchers.
Professor Weller is also a blogger and author of the of the open access book The Battle for Open.
Event Programme
| Timings | Item |
| --- | --- |
| 17:30 - 18:00 | Tea/coffee on arrival |
| 18:00 - 18:40 | Inaugural lecture: Aspects of Open: The evolution of the meaning of open education |
| 18:40 - 19:00 | Q & A |
| 19:00 - 20:00 | Drinks reception |
Watch the webinar online
Please take the opportunity to have your questions answered by our speakers LIVE during the event: